By Spring, 2009, APWG already had a large number of retail-facing companies as sponsors and members who were expressing an interest in these organizations' work in consumer education. APWG Secretary General Peter Cassidy, in collaboration with NCSA's Aimee Larsen-Kirkpatrick, authored a program prospectus called Optimizing Counter-eCrime Consumer Education Through Unified Online Safety Messaging, calling for the development of a unified messaging scheme that would be shared by industry and government agencies, enhancing resonance and retention and reducing apparently conflicting messaging. NCSA and APWG circulated the prospectus among their sponsors and members and organized the coalition from companies and agencies that expressed interest in the project. The first Messaging Convention meeting, in June 2009 at Fox Interactive Media, almost immediately catalyzed the group and its sense of mission. Striking was the fact that with personnel from around 20 companies, the initial group was able to agree on the core principles for the message identifiedv by afternoon session. A consensus was struck that the work represented a reasonable proposal, and that it should continue to completion.
This coalition of industry, government and non-profits, the Online Consumer Security and Safety Messaging Convention and now known as the STOP. THINK. CONNECT.™ Messaging Convention, embarked upon an intensive collaborative effort to develop a message that would resonate with the general public and ultimately change behavior toward safer online habits. After a yearlong process of member meetings, research, focus groups, opinion polling and industry and government collaboration, the Messaging Convention selected the phrase Stop. Think Connect and its associated logography. The STOP. THINK. CONNECT. Messaging Convention, Inc. was incorporated as a Virginia corporation in December 2010, roughly a year and a half after the conception of the project by the APWG.
---
About the APWG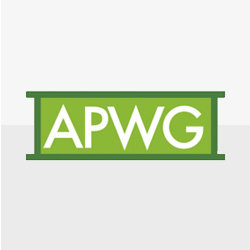 The APWG, founded in 2003 as the Anti-Phishing Working Group, is a global industry, law enforcement, and government coalition focused on eliminating the identity theft and fraud that result from the growing problem of phishing, email spoofing, and crimeware. Membership is open to qualified financial institutions, online retailers, ISPs, the law enforcement community and solutions providers. There are more than 2,020 companies, government agencies and NGOs participating in the APWG and more than 4,200 members. The APWG's website offers the public and industry information about phishing and email fraud, including identification and promotion of pragmatic technical solutions that provide immediate protection.
---



About the National Cyber Security Alliance


The National Cyber Security Alliance is a non-profit organization. Through collaboration with the government, corporate, non-profit and academic sectors, the mission of the NCSA is to empower a digital citizenry to use the Internet securely and safely protecting themselves and the technology they use and the digital assets we all share. NCSA works to create a culture of cyber security and safety through education and awareness activities. Visit www.staysafeonline.org for more information.